You kept asking so I finally gave in to your pleas.
This is the official opening of sign ups for the Kate Spain Christmas Charm Swap!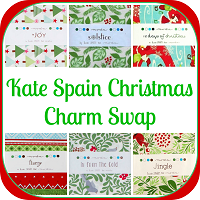 Kate's newest line Jingle is now available so I thought it would be the perfect time to do a Christmas line charm swap.
I don't know about you, but I've been wanting to make myself a Christmas quilt and this swap will help me accomplish that goal. :)
I'm sure this swap will fill up quickly as all the other Kate Spain Charm Swaps have done in the past so you don't want to wait to add your name to the list.

Here are the details:
1) This swap will be open to 56 participants, me included of course. This is for all of Kate's Christmas fabric lines only. The roll call of included lines is below.

2) Each spot is 2 Kate Spain fabrics, 1 yard of each, and I strongly suggest that you purchase at least 1/4 yard more in case of any cutting mistakes you might experience. Last round someone bought fabric from an online and the shop where she ordered it from cut it short so she had a bit of a scramble. Better safe than sorry.

3) Fabric must be new and unwashed and from a smoke free environment.
4) Cut your yardage into 5 inch squares (56 per yard) total = 112 charms. Press your fabric and
remove the selvages
before cutting. You can follow the great tutorial on how to cut your charms from yardage on the Pile O' Fabric blog found
here.

5) Ship them out to me by July 31st, though with all the craziness of summer vacations and other events, the sooner I get all of them, the sooner they will be back on their way to you. Put them in a Ziploc bag and include your 112 charms, an index card with your name, mailing address and email address (in case your envelope opens up, your charms will stay safe and dry and your contact info will get them back to you. (This DID actually happen during round 2! Thankfully she got them back and was able to reship them to me). You must also include a SELF ADDRESSED STAMPED ENVELOPE so that your charms can be mailed back to you. I will not be billing anyone through Paypal. Unfortunately due to the cost and complexity of shipping back internationally, this swap will be for US participants only.


***In addition, please triple check that if the postal person put the stamps on the return envelope for you, that it is at least the same amount of postage that is on the envelope shipping to me. In both previous rounds multiple people were short on their return postage and I want to avoid that at all costs this time. During this swap, if your return postage isn't sufficient, I will let you know and will hold your charms until I receive the difference from you. Using a flat rate envelope for both is really the best = no problems.***

Once I receive them all I will sort and return a stack of 112 different charms to each participant! You can sign up for more than one spot but to start I will allow only 2 spots per participant to give more the chance to get in on the fun. (2 spots = 224 charms, 56 each of 4 different fabrics). They will be in the mail to you 2-3 weeks later.

6)
Very important!!!
Please choose fabrics that have not been claimed by another swap member. Please join the
Kate Spain Christmas Charm Swap Flickr group
and check before purchasing fabrics to see what has already been chosen; we want to avoid duplicates.
FYI.....for some odd reason you need to be logged into Flickr to see all of the fabrics chosen so far. If you don't log in first you see a limited number of photos in the pool and may pick something that someone else has already picked (don't ask how I know this
). Once you have chosen your fabrics please post pictures, the Fabric line and specific print/color information to the Flickr group. I've also added a list post so that it will be easy to see the names and color ways chosen so far. Once you've chosen your fabrics make sure you add both the photos and the names to the list post.
So who wants to join in on the Kate Spain Christmas Charm Swap?
I can hear many of you saying "I do! I Do!"
Your Name
Mailing Address
Email Address
Phone Number (just in case)
Blog address (if you have one)
Instagram ID (if you use it)
When I email you and confirm that you are in the swap, I will include my ship to address.
Grab the new blog button and leave a comment so I know who is participating. The code is on my side bar.
Feel free to spread the news on your blog, Facebook, Instagram or Twitter (I don't use that one) if you'd like.
Here are all the Kate Spain
Christmas lines
that are included in this swap. Some of her older lines are a bit scarce but various prints can still be found if you do a little hunting.
Hurry up! What are you waiting for? Add your name to the list. You don't want to miss out on this one.